The Gander Gold Property
An Exciting New Acquisition
The 9,050-hectare Gander Gold Property is immediately adjacent to the Queensway property along the Central Newfoundland Gold Belt owned by New Found Gold (NFG-TSX.V), where discovery hole 19-01* recently intercepted 19.0 metres of 92.86 gpt gold, including 6.0 metres of 285.2 gpt gold. Gossan's Gander Gold Property is approximately 10 km east and northeast of the NFG discovery hole and hosts both parallel and cross-cutting structures. Management cautions that mineralization on properties in proximity to the Gander Gold Property is not necessarily indicative to the presence of mineralization that may be hosted on the company's property.
* Source: New Found Gold Corp. Final Prospectus, page 65, dated July 31, 2020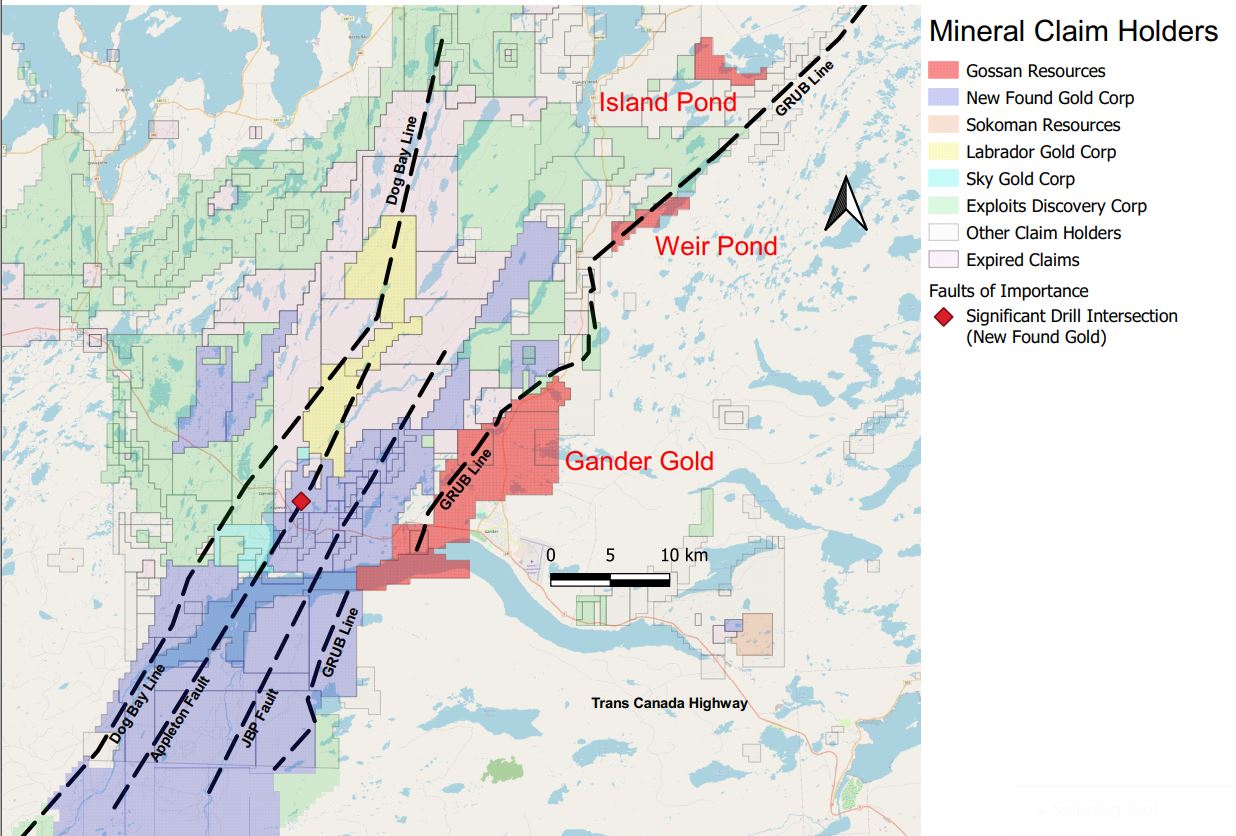 Gossan subsequently expanded its Gander Gold Property in Gander NL to 10,950-hectares by acquiring an additional license extending the Property to the south, out over Gander Lake. The new 1900-hectare license provides a contiguous extension of the geological and structural zones of interest along the Gander River Complex (formerly the GRUB Line).  It encompasses a number of assumed faults that trend southward off the shoreline into Gander Lake from the existing properties held by Gossan and New Found Gold Corp.
Two additional properties were also acquired north of the Gander Gold Property, also along the Gander River Complex.  The 975-hectare Weir Pond Property is located 25 km north of Gander, southwest of Weir Pond. The 1,050-hectare Island Pond Property is located 48 km north of Gander, southwest of Island Pond.  Both properties are situated within the structural corridor of interest to Gossan and are accessible off of Route 330 on Forest Resource roads, logging and other trails.
The Company has received an initial exploration permit for the Gander Gold Property and is proceeding with a field program including: prospecting. orientation geochemical surveys of both soils and vegetation, and high-resolution drone magnetic geophysical surveys.
Location
Great Access located just west and north of the Town of Gander.
The Trans-Canada Highway
and Route 330 transect the Property. It is also located near Gander international airport.
Major Fault Zone
Located adjacent and less than 10km from New Found Gold's Queensway property's Hole 19-
01 that intersected 19.0 metres of 92.9 gpt gold, including 285.2 gpt gold over 6.0 metres.
Under Explored
Both parallel and cross-cutting structures are found on the western side of the Gander Gold Property and extend out under Gander Lake.
Diversified Portfolio
A legacy, highly-diversified, property portfolio with hidden value.
Low Market Capitalization
Only 47.5 million shares outstanding with a low market capitalization.
Gossan also has a broadly diversified portfolio of multi-element properties prospective for hosting PGE and base metals, as well as specialty "green-battery metals", vanadium, titanium, tantalum, lithium and chromium. Gossan has a large deposit of high-purity, magnesium-rich dolomite, and holds advance and  production royalty interests in a high-quality silica (frac) sand deposit.
Newfoundland's Gold Frontier
Newfoundland is rapidly emerging as one of Canada's, if not the world's, major new gold districts. The first significant gold in NFLD was Marathon Gold's Valentine Lake deposit. After a decade of exploration and development, Newfoundland's first major gold deposit was established. In April 2020, Marathon announced gold reserves and resources totalling over 3 million ounces and the drilling continues. Another million ounces is already in the inferred category and more drill results are forthcoming. The development of the Marathon Valentine Lake deposit changed everything …the dreams that gold mines are made of.
New Found Gold's 19 metre intersection of 92.9 gpt gold – that's just a wafer under 3 ounces – including a 6 metre intersection of 285.2 gpt gold – that's over 9 troy ounces of gold per tonne – brought attention and focus to Newfoundland's potential for high-grade gold. The Central Newfoundland Gold Belt is one of a series of deep crustal breaks formed by the opening and closing of the Iapetus Ocean about 400 million years ago. Deep crustal breaks are often associated with multi-million ounce gold deposits, and as many of the world's most prolific gold belts, Newfoundland is now experiencing a major gold rush. Gossan is poised to take advantage of this opportunity with a large land package that parallels the main structural corridor and hosts significant faults and crosscutting structural features with very minimal prior exploration.