STURGEON LAKE ZINC PROPERTY
Zinc-rich Polymetallic
Gossan's Sturgeon Lake Property lies within the zinc-copper-silver-rich polymetallic Sturgeon Lake Greenstone Belt in northwestern Ontario. Originally comprised of 3,088 hectares that has been now expanded to over 4,500 hectares. The property is directly along strike and to the east of 6 Volcanogenic Massive Sulfide (VMS) deposits that were mined between 1970 and 1991. Approximately 18.7 million tonnes of ore was mined from these VMS deposits with typical grades of 8.0% zinc, 1.1% copper, 0.8% lead, 120 gpt silver and 0.5 gpt gold.
On July 28, 2016, the company acquired 12 claims from Excalibur Resources Ltd., along with a significant amount of recent exploration data. The work, conducted by Excalibur, includes: a VTEM electromagnetic geophysical survey by Geotech Ltd.; an Enzyme Leach geochem survey and a Soil Gas Hydrocarbon geochem survey, both processed by Actlabs; and the results of a limited drill program on the southeastern portion of the acquired claims, including drill core. The prior drilling intercepted favourable geological horizons containing blue-quartzeye-rich rhyolites with hydrothermal alteration and sulphide mineralization similar to rhyolite formations hosting the nearby Sturgeon Lake and Lyon Lake deposits.
Gossan acquired the property to explore what it believes are the most prospective untested targets in the historic Sturgeon Lake Camp. They are located in the central and the west end of the property and are along strike and closest to the historic Sturgeon Lake and Lyon Lake cluster of ore deposits. Management believes this property has the potential to host significant zinc-copper-silver-gold-rich VMS polymetallic deposits.
The most notable former mines in the camp extracted high-grade zinc-copper-silver ores with associated lead and gold. These properties are currently held by Glencore and First Quantum Minerals under option to ODIN Metals Ltd (Australia). The grades and tonnages of these former producers are provided in the table below.
Historical Production from Mineral Deposits of the Sturgeon Lake Mining Camp 1970-1991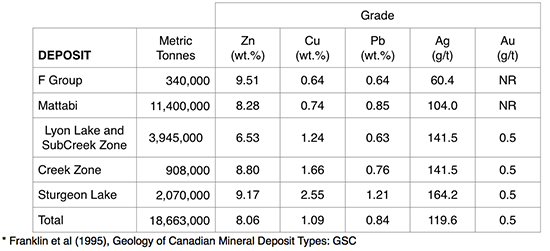 In September 2017, a comprehensive report entitled the "Sturgeon Lake East Exploration Report and Recommendations for Diamond Drilling" was completed. The Report highly recommended a diamond drilling program of 2000 meters in up to 15 drill holes to test a series of prospective drill targets (A-D) defined along a corridor to the northeast of Glitter Lake, in the Sturgeon Lake VMS mining camp. The targets are defined by the coincidence of prospective geology with strong VTEM geophysical conductors and multiple geochemical indicators. Anomalous geochemistry includes the highest ranking for VMS deposits in SGH surveys, and Zn-Au-Ag (+ other metals) in an alder biogeochemical survey and an enzyme leach survey. Four distinct multi-parameter targets have been identified that warrant testing by diamond drilling.
The Report presents the results of a 2016 alder biogeochemical survey and 2017 geophysical modeling of the target areas using Maxwell EMIT modeling techniques for VTEM. The report also summarizes the results of 2010 geochemical (SGH and Enzyme Leach) and VTEM geophysical surveys carried out over the property, and summarizes the geology of the Sturgeon Lake region and Glitter Lake area as presently understood. The Report concludes with a recommendation for a winter drilling program.
During the winter of 2018, Gossan completed a preliminary drill program totaling 741 metres to initially test three of the four distinct high-priority, multi-parameter volcanogenic massive sulphide (VMS) target areas at the Sturgeon Lake Property. Two of four completed drill holes intersected significant separate zones of footwall style hydrothermal alteration with abundant stringer, semi- and near-massive-sulphides of pyrrhotite and pyrite with minor copper and up to 0.46% zinc indicative of VMS type systems in two separate areas.
The geology and alteration encountered appear similar to that of the nearby historic Lyon Lake, Sturgeon Lake, Creek and Sub-Creek ore bodies. Each of the two drill holes (SLG-18-01A, SLG-18-04) was collared within a wide zone of alteration and sulphide mineralization (including up to 80% near-massive sulphides), and requires step-back drilling to test the full width of the zone, as well as along strike drilling to test the extent of the two target areas. The two other drill holes intersected a third target area with significant widths of intercalated sulphidic and strongly graphitic tuffs with abundant pyrrhotite. A total of 380 samples were submitted for assay and geochemical analysis including a total of 16 standards and 12 blanks that were inserted for quality control purposes. The results obtained from AGAT Labs represent a level of quality satisfactory to Gossan's management. Samples were analyzed using a Sodium Peroxide Fusion digestion and gold was analyzed using standard fire assay methods. Anomalous zinc mineralization up to 0.46% was reported. Preliminary results from geochemical analyses indicate strong Eu and other geochemical anomalies consistent with a potentially productive VMS horizon in drill hole SLG-18-1A.
During August 2018, a field program was conducted comprised of line cutting and improvements to the drill trail.
During the Fall of 2018, Gossan completed a detailed gravity survey over the Sturgeon Lake East polymetallic VMS property in order to help delineate those areas with the greatest concentration of massive sulphides. The gravity survey was carried out in response to very encouraging results from a 4hole drill program completed earlier in the year, which encountered wide intercepts of strongly altered rocks, and stringer, semi-massive and massive sulphides with anomalous copper and zinc values up to 0.46% Zn. The hydrothermal alterations encountered in the drill holes are similar to those at the Lyon Lake and Sturgeon Lake deposits, and along with ongoing geochemical studies indicate the area is highly prospective for economic VMS type deposits in two main target areas (A and D).
The gravity survey, conducted by MWH Geo-Surveys, defines several areas of high density rocks which are coincident with the previously defined VTEM, magnetic, and geochemical (Zn-Ag-Au) anomalies. The coincidence of the gravity anomalies with these previous surveys, known sulphide mineralization and favourable host rock geology, strongly suggests the presence of massive sulphide bodies.
In spite of the abundance of sulphides and alterations encountered in the first 4 drill holes in the preliminary drill program, the gravity survey suggests that they missed the main mass of possible sulphide material in all cases. A winter drill program of about 15 drill holes has been recommended to test the coincident gravity, VTEM, magnetic and geochemical surveys.
The geology and alteration encountered during the 2018 winter drill program appears similar to that of the nearby historic Lyon Lake, Sturgeon Lake, Creek and Sub-Creek deposits. Each of the two drill holes (SLG-18-01A, SLG-18-04) was collared within a wide zone of alteration and sulphide mineralization, and require step-back drilling to test the full width of the zone, as well as along strike and deeper drilling to test the extent of the two target areas. The potential of these areas is reinforced by the current gravity survey.
Drill holes 18-2 and 18-3 intersected a third target area with significant widths of intercalated sulphidic and graphitic tuffs with abundant pyrrhotite and anomalous zinc mineralization up to 0.29%. This third area also requires additional drilling to test an associated strong gravity anomaly, which was missed by holes 2 and 3.
Gossan management is strongly encouraged by the results of exploration carried out on their Sturgeon Lake property to date.
On February 7, 2018, ODIN Metals Ltd (Australia) entered into a 3-year option agreement with First Quantum Minerals Limited to acquire a 100% interest in a 11.7 sq km property located west of Gossan's ground for three cash payments totaling $475,000; a 1.5% NSR; and assumption of all historical liabilities with respect to the property, in excess of $1,000,000 which will be funded by First Quantum.
On February 4, 2019, ODIN entered into a 3-year option to acquire a 50% interest in Glencore's Sturgeon Lake Properties by spending $6.67 million on exploration and providing Glencore with an option to purchase 50 million shares of ODIN at AUD $0.40 per share. Glencore also has the right to all off-take from the property and board representation in certain circumstances. Glencore is the operator.
Dr. Hamid Mumin, P.Geo., a director of Gossan, and a distinguished geologist, and professor in the Department of Geology at Brandon University is acknowledged for his expertise in VMS, gold, and ironoxide-copper-gold (IOCG) deposit types. Dr. Mumin graduated from Geo-Engineering at the University of Toronto in 1985, where he also completed an M.A.Sc. in Economic Geology before completing his Doctorate degree and Post-Doctoral Fellowship at the University of Western Ontario in 1994, for his studies in lode gold deposits in the Ashanti and Carlin goldfields. Before joining Brandon University in 1995, Hamid worked, over 6 years, as a mine, exploration and research geologist for Noranda at the Sturgeon Lake mining camp. In addition to teaching at Brandon, Dr. Mumin continues to consult for industry, both as a Professional Engineer and Geologist, managing projects in Canada and internationally. He was directly involved with several discoveries and mine developments. Dr. Mumin joined Gossan's Board of directors in 2015.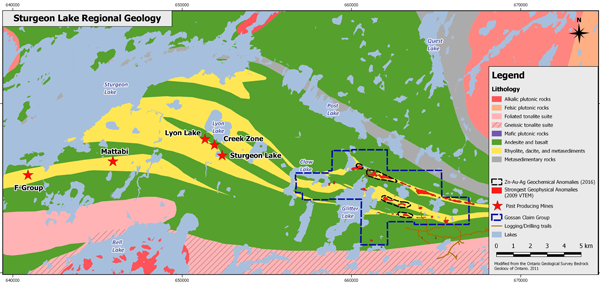 INWOOD DOLOMITE
Magnesium-rich Dolomite
The Inwood Magnesium Dolomite Property is located in south-central Manitoba, 80-km north of Winnipeg. The Property covers 1,583 hectares (3,914 acres) holding near or at surface beds of high-purity dolomite that are above the water table. The Property hosts a substantial resource identified in a National Instrument 43-101 resource report. The current focus of the Project is the identification of viable markets for high-purity dolomite.
Gossan also holds 3 additional claim blocks in the area totaling over 4,400 hectares. These Northern Claim Groups also hold near or at surface beds of dolomite that are above the water table.
On November 16, 2016, Gossan announced that it had entered into an Exclusive Supply Agreement with Sediment Research & Minerals Ltd. ("SRML") to be its sole provider of high-purity dolomite. SRML has identified several markets for dolomite and also has access to Akwaton®, a trademarked synthetic polymer, and other polymers. These polymers have a number of applications that require high-purity dolomite.
Under the terms of the exclusive supply agreement, Gossan will receive a production royalty on all dolomite sold to, and/or purchased from other sources, by SRML of $1.00 per tonne for products with a price of less than $70 per tonne and a royalty of 2% for products with a price of $70 per tonne or greater. Gossan will also retain an equity interest in any project.
Sediment Research & Minerals Ltd (SRML) is a Manitoba-based, privately-owned, "green" company. SRML intends to utilize its proprietary processes to develop a set of high-value by-products. Markets for these innovative specialty products potentially include agriculture, aquaculture, human & animal healthcare, mineral development & tailings remediation and wallboard construction.
On February 14, 2017, Gossan received approval to access, explore, and extract up to 10,000 tonnes of dolomite from a proposed test quarry. A new access agreement allows for the extraction of up to 50,000 tonnes of dolomite to be extracted each year until September 12, 2025.
On May 13, 2006, the Gossan completed a 27-hole drill program, totaling 496 metres, on its Inwood Magnesium Dolomite Property. Watts, Griffis McQuat (WGM) were retained to undertake a National Instrument 43-101 Report resource calculation based on the results from the 2006 drill program and 25 holes previously drilled on the Property.
The 2006 drill program was conducted at a grid spacing of 200×200 metres over an area of approximately 80 hectares. The program targeted the Fisher Branch Formation which typically outcrops at surface and extends to a depth of about 12-15 metres. Some of the holes also investigated the underlying Upper and Lower Stonewall Formations down to a depth of about 25 metres.
On September 8, 2008 Gossan announced the findings of the Watts, Griffis, McOuat National Instrument 43-101 Report (Final) on the Inwood Dolomite Project. The final report utilized a more sophisticated block modeling technique than an initial report. Total residue for the Fisher Branch resource was reduced to 0.34%.
The Inwood Property hosts a very-large, high-quality deposit with the report estimating the Fisher Branch resource as follows:
| | | | | |
| --- | --- | --- | --- | --- |
| Formation and Zone | Resource Classification | Tonnage | Grade MgO (wt%) | Grade CaO (wt%) |
| Fisher Branch | Measured | 28,819,000 | 21.15% | 30.91% |
| Fisher Branch | Indicated | 5,057,000 | 21.40% | 30.66% |
| Fisher Branch | Inferred | 131,236,000 | 21.64% | 30.51% |
An initial environmental study has been conducted at the Inwood Property. No endangered species were identified in the assessment of the natural environment. The area provides typical habitat for garter snakes and grouse amongst other species, and alvar vegetation. Portions of the Inwood Property are part of a wildlife management area. The Fisher Branch resource is in an area of the property which is not within a wildlife management area.
Gossan contracted Jim Collinson, the former head of Canada's delegation to the OECD High Level Committee on Environment and Economy and the President of the UNESCO World Heritage Committee, to conduct a site visit at Inwood, which took place May 3, 2012 to study all environmental factors pertaining to the Inwood Property. Collinson made various recommendations to mitigate environmental concerns.
The Peguis First Nation has filed a Treaty Land Entitlement (TLE) in a large area in southeastern Manitoba which includes the Inwood area. Gossan has initiated an engagement process with the Peguis First Nation (PFN). The PFN is considered a pro-business band and their potential involvement could lead to additional support for the Inwood Project.
Between 2007 and 2013, the Company collaborated on the development of a new high efficiency magnesium metal production process being developed by Douglas J. Zuliani, known as the Zuliani Process. Despite considerable success in advancing the process and its development, the agreement with Dr. Zuliani expired in early 2013, at a time when considerable uncertainty developed regarding the outlook and future of the magnesium market. China produces about 85% of the world's magnesium. As of January 1, 2013, China dropped its 10% export duty on magnesium ingot which resulted in a softening of magnesium prices. China is fully committed to remaining the world's dominant magnesium producer.
PIPESTONE PROJECT
Vanadium/Titanium/Iron
The Pipestone Project is a 50% owned joint-venture with Cross Lake Mineral Explorations Inc., a wholly-owned private corporation of the Cross Lake First Nation. Gossan is continuing to encourage engagement with the Cross Lake Band Council and the Chiefs of the Pimicikamak Okimawin Four Councils in discussions regarding the development and/or sale of its mineral rights at the Pipestone Property.
In July of 2016, after a hiatus, discussions pertaining to the future of the Pipestone Property resumed with the Pimicikamak Okimawin. Gossan was advised that Pimicikamak Okimawin has completed their due diligence process and would be in a position to extend a formal purchase offer to Gossan for the Pipestone mineral rights. There is no indication that any offer will be immediately forthcoming. On July 13, 2018, a new Chief and Band Council were elected at the Cross Lake First Nation. An initial meeting was held with the new Chief, Councilors and advisors and Gossan's management in December of 2018 and an offer was discussed. Subsequently, on May 7, 2019, a new Chief and Band Council were elected and an initial meeting, led by the Vice-Chief, was held on October 1, 2019.
The Pipestone Property is comprised of 11 claims and covers 2,578 hectares. On 9 of the claims, assessment work requirements have been temporarily deferred and these claims may become subject to loss of tenure. The other two claims along the deposit, totaling 278 hectares, are in good standing with tenure that extends to 2030 and 2044. The Property is situated within Northern Flood Agreement Selection Site 1.9, an area that is otherwise withdrawn from staking as a potential and possible future site for a reserve.
The Pipestone Lake Property is located in north central Manitoba, approximately 150km south of Thompson and 550km north of Winnipeg. It is situated within Northern Flood Agreement Selection Site 1.9, an area that is otherwise withdrawn from staking as a potential and possible future site for a reserve. At the Pipestone Lake's Areas 1 and 2, drilling to date has outlined a non-compliant NI 43-101 historic indicated resource of 156.8 million tonnes grading 5.56% TiO2, 28.11% Fe2O3 and 0.22% vanadium pentoxide and an inferred resource of 150 million tonnes at a similar grade. The mineral resources at Pipestone Lake were estimated by Reedman & Associates in a report prepared for the Company in 1998 but should not be relied upon as the report was not compliant with NI 43-101 and has not been verified by a Qualified Person under the Instrument. More drilling could significantly increase the resource.
A preliminary mine plan has been prepared for the Pipestone deposit by Reedman and Associates which classifies various tonnage according to titanium dioxide cut-off grades, provides proposed open pits, and estimates stripping ratios; however more detailed drilling is required to support a 30,000 tons per day operation. Additional metallurgical and other studies are required in order to assess the economic feasibility of the deposit. The operation of an open-pit mine of this magnitude would be expected to require 400-500 workers on a long-term basis.
Currently, about 85% of vanadium is used in the steel industry as a strengthener. Various nations are mandating stronger steel rebar in construction and building codes, likely increasing vanadium demand. On February 9, 2018, China announced new rebar standards which were implemented in November 2018 and to be phased in over 3 years.
Vanadium may also play an important new role in electrical storage technology which could substantially increase demand for this metal. A potential large-scale use of vanadium is in grid–scale electrical storage of renewable energy – wind, solar and hydro – using re-dox flow batteries. Vanadium re-dox batteries could substantially lower power utilities' capital costs as they allow for electricity to be generated and transmitted in off-peak hours and then stored locally to satisfy the following day's peak power demand. New electrical transmission grids are increasingly difficult to get approved and expensive to build.
Vanadium pentoxide prices bottomed in early 2016 at about US $2.50 per pound. Prices increased during 2017 and 2018 with a peak price of over US $11.00 per pound in 2017 and US $28.00 per pound in 2018. The current market price is in the range of US $5.00 to US $6.00 per pound.
Paints, paper and plastics are the main uses of titanium dioxide. Potential future green uses of titanium dioxide include pliable solar panels.
BIRD RIVER PROJECT
Palladium/Platinum/Base Metals
The Bird River Property, which covers over 2.800 hectares along 8 kilometres of the Bird River Sill Complex, is comprised of 3 separate blocks of the Sill – the Chrome and its Extension, the Peterson and the Page Block – along with the Ore Fault Zone. This complex carries significant concentrations of palladium and platinum along with nickel, copper, zinc and chromite. The Bird River Property is located about 40 km east of Lac Du Bonnet, Manitoba and, along the Sill, immediately adjacent to the west and northwest of Grid Metals' (formerly Mustang Minerals') Makwa (formerly Maskwa) Deposit.
On April 8, 2014, Grid (Mustang) announced the results of a NI 43-101 Preliminary Economic Study (PEA) conducted by RPA Inc. The PEA examined a proposed mining operation where ore is processed from two open pit resources (initially Makwa and then Mayville) with metal recovery at a central mill located at the Mayville site which is 43 kilometres away. The PEA calculated an Indicated Resource at Makwa of 7.2 million tonnes grading 0.61% Ni; 0.13% Cu; 0.01% Co; and 0.36gpt palladium and 0.10gpt platinum. The Grid Metals (Mustang) PEA is filed on SEDAR and should be referred to for details.
Gossan currently holds a 100% interest in its Bird River Project.
Between 2007 and 2012, the Property was subject to a Joint Venture with Stillwater Mining and formerly Marathon PGM. The partners made payments to Gossan of $850,000 and incurred over $4.7 million of exploration and acquisition expenditures at the Bird River Project.
On January 15, 2009, the Company announced initial resource estimates for the Page Block and Ore Fault North Zones. For details of the report refer to SEDAR under Marathon PGM (February 26, 2009). The NI 43-101 compliant resource estimates were completed by independent mining consultants and Qualified Persons, F.H. Brown C.P.G., Pr.Sci.Nat., and Antoine Yassa, P.Geo. of P&E Mining Consultants Inc., as follows: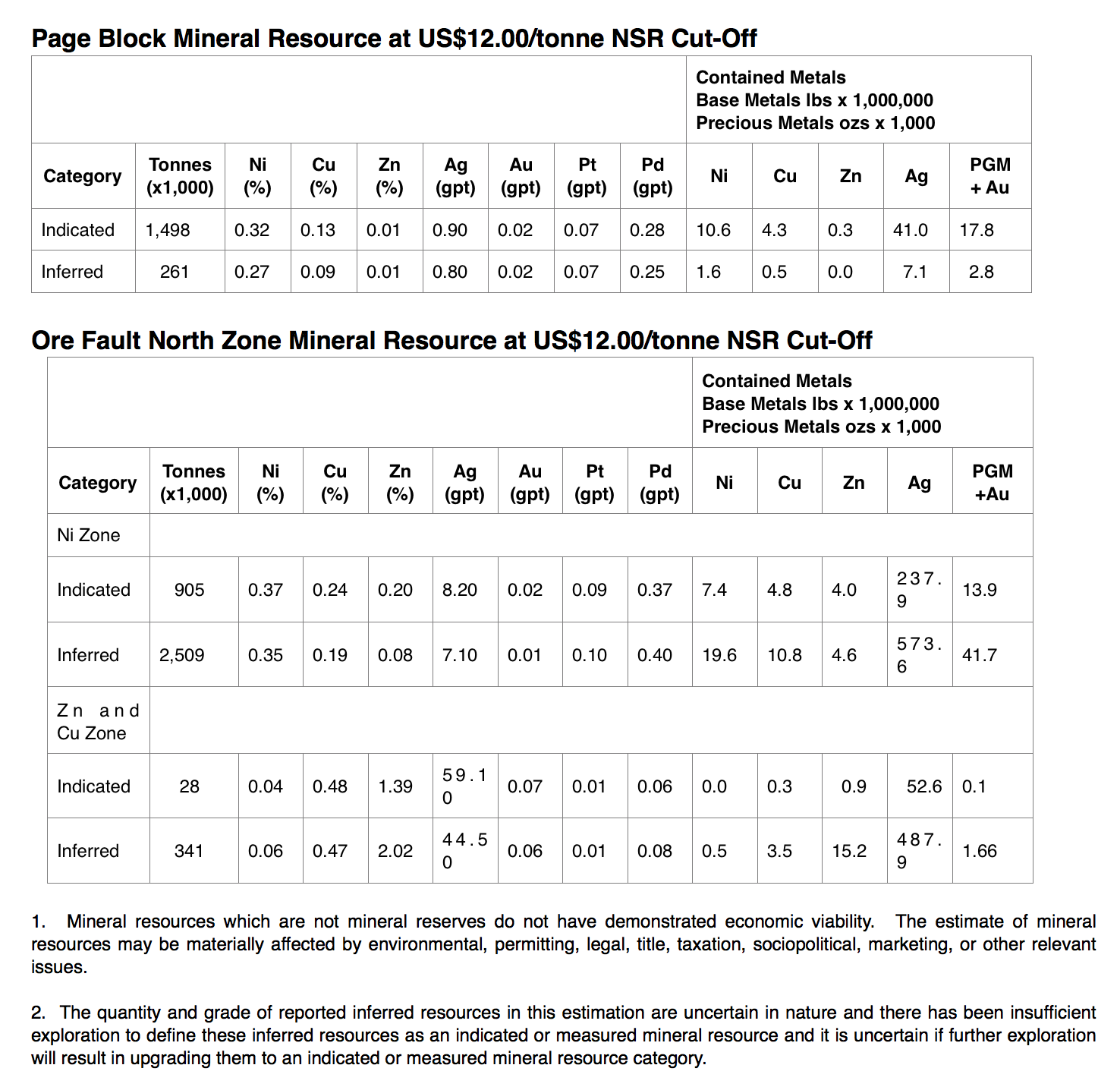 A post-resource 2009 drilling program was completed with a total of 971 m drilled in 7 holes designed to enhance the two known resources at the Page Block and the Ore Fault North Zone. In 2009, a drill program was also completed at the Coppermine Zone located at the western end of the Property consisting of 6 holes (549m) that investigated sulphide lenses with elevated PGM levels.
Going forward, higher nickel prices and consolidation of the adjacent deposits along the Bird River Sill would improve the economic prospects of the Bird River Project.
SEPARATION RAPIDS PROJECT
Lithium/Tantalum
The 224-hectare Separation Rapids Specialty Minerals Project is located 58 km north of Kenora, Ontario in the highly prospective English River greenstone belt, which hosts lithium, tantalum and cesium mineralization. The Property is situated immediately adjacent to the east of Avalon Advanced Materials Inc.'s (formerly Avalon Rare Metals Inc.) Big Whopper property, one of the largest rare metal pegmatite deposits in the world.
In the Fall of 2018, Gossan conducted a 4-man field program at the Property. A detailed examination of the pegmatite zone which was identified in programs in 2007 and 2009, showed that there were many more unmapped pegmatite outcrops in the zone. The pegmatite outcrops, which appear to be on strike with the Big Whopper Pegmatite, were mapped and sampled with the best assay being 1.06% Li2O. Minor lepidolite was also noted in several locations. A trenching program was recommended to strip the overburden off the ends of the outcrops to assess their full width and understand their emplacement.
The demand for lithium is growing strongly due to the use of lithium minerals in battery-powered vehicles and other electrical storage devices.
On September 27, 2016 and October 25, 2016, Avalon announced the results of a NI 43-101 Preliminary Economic Study (PEA) prepared under the oversight of Micon International Limited. The PEA investigated the potential for recovery of a lithium product suitable for the lithium battery market and the results confirm a technically viable process and positive economics for the recovery of a battery-grade lithium hydroxide product.
On July 18, 2017, Avalon announced the results of its Spring 2017 5-hole drill program to investigate lepidolite, which included two holes located between the eastern side of existing deposit and the claim border with Gossan's ground, a distance of about 1000 metres. Both holes intersected pegmatite mineralization with visible petalite and/or lepidolite content. In 2018, two additional holes were drilled on the eastern side of the deposit, one of which encountered an approximate true width of 20 metres of mainly lepidolite-petalite mineralization. Gossan has 3 showings of lepidolite in outcrop along strike.
On August 21, 2018, Avalon announced an updated PEA with a new staged development model that materially reduces the capital cost of the project from a contemplated $450 million to a phase 1 estimate of $77.7 million. The new model focuses on initial production of lithium mineral concentrates. The PEA was
prepared by Micon International Limited. Avalon has also updated its Measured and Indicated Resource to 8.405 million tonnes at 1.408% Li2O.
Historically, the highest and best currently known use for material from the Separation Rapids Property was likely as an input to the glass/ceramics industry. However Avalon has made material progress in approaching a higher and better use in the lithium battery market and other more valuable by-products. No major fieldwork is currently being planned at the Property by Gossan while we wait to assess the economic viability of various aspects of Avalon's test work.
ROYALTY INTEREST IN THE MANIGOTAGAN DEPOSIT
Silica Frac Sand
Gossan holds a significant royalty on 9 quarry leases within a high-quality silica sand deposit, owned and operated by Canadian Premium Sand Inc. (TSX.V-CPS), known as the Wanipigow (formerly Seymourville) Silica Sand Project. Canadian Premium Sand is currently in the process of developing this permitted project into production of frac sand in the near-term.  Alternatively, CPS is also actively examining the production of float glass, which may be a better and higher economic use for the high-purity silica sand. 
Under the terms of the royalty agreement, semi-annual advance royalty payments of $50,000 each are payable as of June 18th and December 18th of each year. All frac sand produced, sold and paid from the nine Manigotagan leases (formerly held by Gossan) is subject to a $1.00 per tonne production royalty payable quarterly and all other products are subject to a $0.50 per tonne production royalty. Although the royalty is solely payable on production from the Manigotagan leases, the agreement also provides for a minimum production royalty from both the Manigotagan and the adjacent Seymourville properties held by Canadian Premium Sand, based on their relative mining reserves of frac sand at the time of permitting. Canadian Premium Sand can acquire one-half of Gossan's production royalty interest for $1.5 million during the three years after commencing commercial production and $2 million for a further two years.
On June 12, 2019, Canadian Premium Sand announced the results of a new Preliminary Feasibility Study (PFS); a new Mineral Resource; and that it had obtained all necessary approvals from the Hollow Water First Nation, the local community of Seymourville and the Province of Manitoba. Additionally the Canadian Minister of Environment and Climate Change confirmed that the project would not require environmental assessment under federal law CEAA 2012.
As part of the PFS, and based on an additional 93-hole sonic drill program, a NI 43-101 Mineral Resource was defined at 49.6 million tonnes of Measured & Indicated and 97.3 million tonnes of Inferred. Additionally, a 30.6 million tonne Proven & Probable Mineral Reserve was defined.
The PFS was updated and on February 4, 2020, CPS announced a revised capital cost for the Wanipigow Sand Project of $120 million with a production rate of 1.25 million metric tonnes per year. Hi-Crush Inc. has been advising CPS and its OnCore mobile processing plant will be utilized. CPS expects to bring the project into production in early 2022. The company also announced a Master Services Agreement to provide Wisconsin frac sand to Western Canada starting in the second quarter of 2020. For additional information go to www.canadianpremiumsand.com.
On February 3, 2021, CPS announced that it was shifting the direction of its business strategy to focus on developing a sustainable float glass manufacturing and coating facility to produce solar glass for use in solar panels or ultra-clear energy efficient architectural glass for the construction of buildings.  For additional information go to https://www.canadianpremiumsand.com.
The Manigotagan Property is located 170 km northeast of Winnipeg where Gossan held a silica sand deposit at Seymourville, on the east shore of Lake Winnipeg, directly across from Black Island where silica sand was extensively quarried prior to the island becoming a Provincial Park.
On June 25, 2013, Gossan entered into a purchase and sale agreement to vend its Manigotagan Silica Frac Sand Project, comprised of 9 quarry leases located near Seymourville Manitoba, to Claim Post Resources Inc., now Canadian Premium Sand Inc. Gossan had been seeking a joint-venture partner or a purchaser for the Project since completing a marketing study in late 2010. In 2012, Claim Post acquired the adjacent Seymourville Property to the south and announced plans to develop a frac sand operation. A consolidation of the two properties should improve the viability of the project.
To April 1, 2021, Canadian Premium Sand, formerly Claim Post Resources, has made total property payments of $1.28 million cash; 4 million shares of Claim Post (subsequently sold); and advance royalty payments of $500,000. The advance royalty payment of $50,000 that was due December 18, 2020 has yet to be received.   
In 2006, Gossan conducted a 23-hole core and auger drill program at the 306-hectare Manigotagan Silica Property and in 2008 followed up with a 26-hole sonic drill program. These drill programs were successful in outlining two material zones of high-purity silica sand with limited overburden.
In 2009, Gossan commenced testing the silica sand for use as frac sand proppant, resulting in consistent ISO 9K Proppant ratings for various mesh fractions. Pressure conductivity tests were also conducted with positive results.
In 2010, Gossan retained a marketing consultant for the project. The marketing study established that the highest and best use of Manigotagan silica sand is as frac sand proppant used in the oil and gas sector. The study provided an analysis of 17 companies producing frac sand proppant in North America and an assessment of candidates suitable for a strategic partnership in Gossan's Project.